Wait what? Yes, that's right... I'm home from my grandparents house and most of my friends are still away, and as for the ones that are here... I can't contact them because my phone was left in the Berkshires! I was busy helping my Grandpa build a chicken coop (yep) and my mom made my bed (how nice!) while I was doing so... and made my phone into the bed... so it was left there. Oy. Alright, alright, enough complaining, it's in the mail and I should have it tomorrow or Wednesday, but as for now, I am feeling this incredibly odd and unfamiliar sensation of slight boredom.
However, while I was there, I did entertain myself with a little countryside photo shoot in some new and interesting locations, even though I didn't bring the most exciting outfits with me because a) visiting my Grandpa almost always involve things like climbing ladders and using power tools (and it did) and b) well... packing for the weekend involved unpacking part of my stuff from college which I had done as little of as possible. haha. I did a lot of unpacking today though, I swear! ... that shows you how bored I am ;) haha
I would have loved to visit the neighbor's farm or something for photo-taking but I felt like that might be a bit suspect, so I settled for a walk to a cute little bridge nearby. It did look like it was going to rain but luckily it waited until later.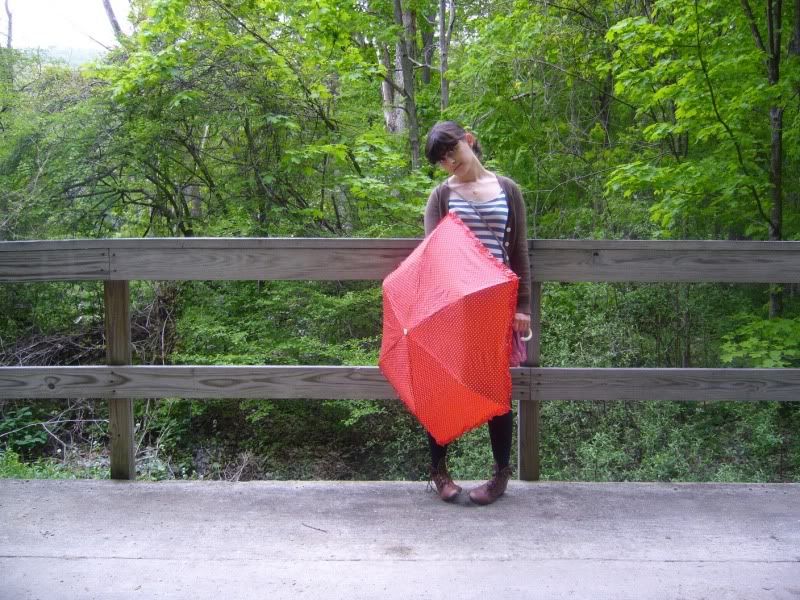 {urban shirt, mom's cardigan, old reconned skirt, target tights, vintage boots, h&m umbrella}
Today I also went to my local goodwill and housing works and it was fairly unsuccessful (I did come away with one hat) but still fun. Tomorrow I'm going to the dentist and getting my hair cut (nothing drastic) and will have time to kill in between, so we'll see if I find any more shopping to do ;)